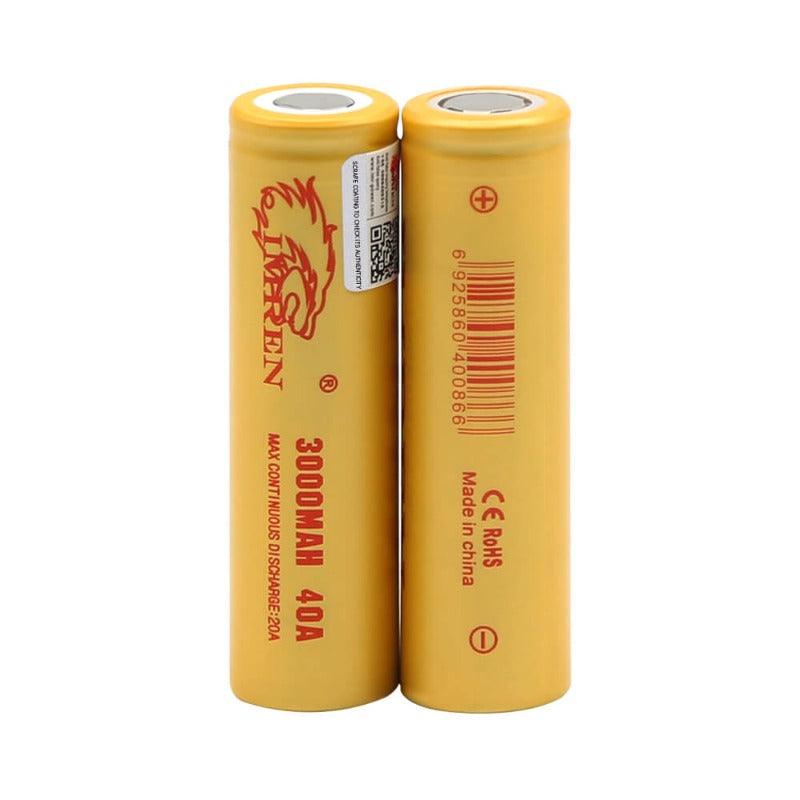 IMREN 18650 3000mAh 40A Rechargeable Lithium Battery (2PCS/Pack)
$15.00 $28.99
IMREN 3.7V 3000mAh 40A Li-ion Rechargeable 18650 Battery Yellow/Gold
IMREN 18650 rechargeable 3.7V 3000mAh Max 40A Yellow battery is a standard size 18650 battery. It has a 3.7V constant voltage and 40A powerful instantaneous current. The battery life can be over more than 600 cycles. It's a good power supply for most devices like laptop batteries, power tools, e-bikes, etc.
BULK DISCOUNTS & PRICES
We also provide bulk prices and discounts for buyers.
The price will be automatically reduced when you checkout. Please send us if you found anything wrong with the price. We will resolve this for your order(s).
| | |
| --- | --- |
| Quantity | Discount |
| 3-5 Packs | 2% off |
| 6-9 Packs | 5% off |
| 10-100 Packs | 8% off |
| Above 100 Packs | 12% off |
Payment
Due to international payment, the transfer is very very strict for the credit card, not only receiving bank but also the paying bank will check the international payment very strictly, which may cause payment to fail many times. Please try to call your bank and confirm this is real order, not a fraud. If it still not works then please choose PayPal.
SPECIFICATION
DESCRIPTION
The battery is rated by IMREN Lab at 3011mAh, with a pulse and burst rate of 40.3A. Built specifically for electronic devices. The general performance of the battery and safety were the most concerning when we designed it.
1. General
This document has been prepared to describe the appropriate cautions and prohibitions, that the customer should take or employ when the customer uses and handles the lithium-ion cell to be manufactured.
2. Charging
2.1 Charging Current
The charging current should be less than the maximum charge current specified in the product specification. 
2.2 Charging Voltage
The Charging should be done by voltage less than that specified in the product specification.
2.3 Charging Time
Continuous charging under appropriate voltage does not cause any loss of characteristics. However, the charge timer is recommended to be installed for safety considerations, which shuts off further charging at the time specified in the product specification.
2.4 Charging Temperature
The cell should be charged within a range of specified temperatures in the product specification.
2.5 Reverse Charging
The cell should be connected, confirming that its poles are correctly aligned. Inverse charging should be strictly prohibited. If the cell is connected improperly, it may be damaged.
3. Discharging
3.1 Discharging
The cell should be discharged at less than the maximum discharge current specified in the product specification.
3.2 Discharging Temperature
3.2.1 The cell should be discharged within a range of temperatures specified in the product specification.
3.2.2 Otherwise, it may cause a loss of characteristics.
3.3 Over-discharging
3.3.1 The system should equip with a device to prevent further discharging from exceeding discharging cut-off voltage specified in the product specification (Over-discharging).
3.3.2 Over-discharging may cause loss of performance, characteristics, of battery function.
3.3.3 Over-charging may occur by self0discharge if the battery is left for a very long time without any use.
3.3.4 The charger should equip with a device to detect cell voltage and to determine recharging procedures.
4. Storage
4.1 Storage Conditions
4.1.1 The cell should be stored within a range of temperatures specified in the product specification.
4.1.2 Otherwise, it may cause loss of characteristics, leakage, and/or rust.
4.2 Long-term Storage
The cell should be used within a short period after charging because long-term storage may cause a loss of capacity by self-discharging.
4.2.2. If long-term storage is necessary, the cell should be stored at a lower voltage within a range specified in the product specification, because storage at a higher voltage may cause a loss of characteristics.
5. Cycle Life
5.1 Cycle Life Performance
5.1.1 The cell can be charged/discharged repeatedly up to times specified in the product specification with a certain level of capacity also specified in the product specification.
5.1.2 Cycle life may be determined by conditions of charging, discharging, operating temperature, and/or storage.
6. Design of System
6.1 Connection Between the Cell and the Battery
6.1.1 The cell should not be soldered directly with leads. Namely, the cell should be welded with leads on its terminal and then be soldered with wire or leads to soldered lead.
6.1.2 Otherwise, it may cause damage to components, such as the separator and insulator, by heat generation.
6.2 Positioning the battery in the System
The battery should be positioned as possible as far from heat sources and high-temperature components. 6.2.2 Otherwise, it may cause a loss of characteristics.
6.3 Mechanical shock protection of the battery
The battery should equip with appropriate shock absorbers in order to minimize shock. 6.3.2 Otherwise, it may cause shape distortion, leakage, heat generation, and/or rupture.
6.4 Short-circuit protection of the cell
6.4.1 The cell equips with an insulating sleeve to protect short circuits which may occur during transportation, battery assembly, and /or system operation.
6.4.2 If the cell sleeve is damaged by some cause such as outside impact, it may cause short-circuit with some wiring inside the battery.
6.5 Connection between the battery and charger/system
6.5.1 The battery should be designed to be connected only to the specified charger and system.
6.5.2 A reverse connection of the battery, even in the specified system, should be avoided by employing a special battery design such as special terminals.
7. Battery Pack Assembly
7.1 Prohibition of usage of damaged cell
7.1.1 The cell should be inspected visually before battery assembly.
7.1.2 The cell should not be used if sleeve damage, can-distortion, and/or electrolyte smell are detected.
7.2 Terminals handling
Excessive force on the negative terminal should be avoided when the external lead is welled.
7.3 Transportation
If the cell is necessary to transport to the order place, such as the battery manufacturer, careful precautions should be taken to avoid damage to the cell.
8. Others
8.1 Disassembly
8.1.1 The cell should not be dismantled from the battery pack.
8.1.2 Internal short-circuit caused by disassembly may lead to heat generation and/or venting. 8.1.3 When the electrolyte is coming in contact with the skin or eyes, flush immediately with fresh water and seek medical advice.
8.2 Short-circuiting
8.2.1 Short-circuit results in a very high current which leads to heat generation.
8.2.2 An appropriate circuitry should be employed to protect against accidental short-circuiting.
8.3 Incineration
Incinerating and disposing of the cell in the fire are strictly prohibited, because they may cause rupture.
8.4 Immersion
Soaking the cell in water is strictly prohibited, because it may cause melt of components to damage functions.
8.5 Mixing use
Different types of cells, or the same types but different manufacturer's cells may lead to cell rupture or damage to the system due to the different characteristics of the cell.
8.6 Battery exchange
8.6.1 Although the cell contains no environmentally hazardous components, such as lead or cadmium. the battery should be disposed of according to the local regulations when it is disposed of.
8.6.2 The cell should be disposed of in a discharged state to avoid heat generation by an inadvertent short-circuit. 8.7 Caution - The Battery used in this device may present a risk of fire or chemical burn if mistreated. Do not disassemble, heat above 100℃, or incinerate. The use of another battery may present a risk of fire or explosion. Dispose of the used battery promptly. Keep away from children. Do not disassemble it and do not dispose of it in the fire.
Please read the following content and related pages carefully before purchasing. The buyer shall be responsible for the consequences if the problem is caused by the buyer himself.
We only provide pre-sale/after-sale services to users who purchase/place orders for this site. Please contact the relevant platform or customer service staff for the other customers.
Address Information
Please DON'T fill in any P.O. Box address as a shipping address because of related delivery rules. Any consequences arising therefrom shall be borne by the purchaser.
Please fill in your home or workplace address when placing an order. The information will only be used for parcel distribution and other related purposes as our privacy policy said.
Order Processing Time
It is the time elapsed between when the customer places the order and when the seller hands the order over to the delivery service.
Generally, orders are shipped within 2-3working days of order confirmation/payment. Orders made on the weekends might experience delays.
Our warehouse only operates on Monday – Friday during standard business hours, except on holidays. In these instances, we take steps to ensure shipment delays will be kept to a minimum.
Shipping Policy
If you need to amend your delivery address because there is a missing house number or postcode, this will be free of charge.
If we can't change the address for you, we'll let the courier know so they can make the change before delivering your order. A $5 fee will apply after a successful amendment.
If the order has been delivered to the original address successfully, a $15 amendment fee will apply.
There is a 1% chance that the products are damaged during shipping. If this happens, please contact our customer service team immediately.
All logistics time is the time required after the parcel is sent. The warehouse will normally send the package out within 24 hours. If you place an order on Saturday and Sunday (Or Holidays), your package will be send out on Monday(Or the first work day after the holiday)
Total Delivery Time = Processing Time + Shipping Time (depending on your location)
You can read more details on the Shipping Policy
Returns Policy
If you are unhappy with your purchase, as long as you contact us within 30 days of the receipt of the item, we will process your return/exchange request. Any request after 30 days will not be honored. Please make sure to contact us by email: imren.shop@gmail.com at first. You can read more details on the
Return & Refund Policy
page.