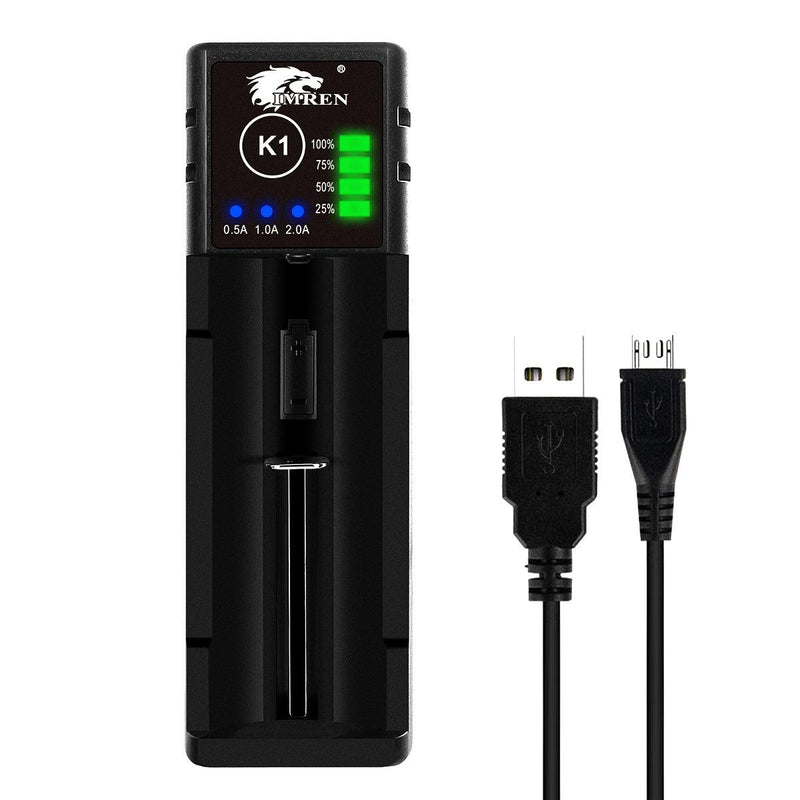 IMREN K1 Single Slot Universal Rechargeable Li-ion Battery Charger with USB Port
$6.00 $9.00
IMREN 18650 Lithium Battery Chargers for Li-ion 3.7V Rechargeable Battery 18650 18350 17650 25500 26650 21700 22700 Batteries (1 Slots USB Charger)
Item

Specification: IMREN K1 Charger

Parameters

Brand

IMREN

Model

K1

Input

DC 12V 2A

Output

4.2V±1% 2A*1, 1A*1, 0.5A*1

Constant Charging Current

0.5A: 500m A±5%

1A: 1000m A±5%

2A: 2000m A±5%

Weight

75g

Color

Black

Plug

EU/UK/US/AU

Compatible with

Li-ion / IMR: 10340, 10350, 10440, 10500, 12340, 12500, 12650, 13450, 13500, 13650, 14350, 14430, 14500, 14650, 16500, 16340 (RCR123), 16650, 17350, 17500, 17650, 17670, 17700, 18350, 18490, 18500, 18650, 18700, 20700, 21700, 22500, 22650, 22700, 25500, 26500, 26650, 26700,AA,AAA


USB Output Function

1). USB output floating voltage: 5.0-5.5V
2). Floating current :<10m A
3). USB max. discharging current :1000m A
4). Cease output protection voltage: 2.8±0.15V

External power source

<20.0m A

Auto recharge voltage

4.10±0.03V

Activate current( battery voltage <2.0V)

10±1m A

Trickle charge current( battery voltage2.0-2.9V)

1/10 of max. charging current 

Feature

Active current distribution (ACD).

Automatically detects power level of batteries and selects the appropriate voltage and charging mode.

Automatically stops upon charging completion.

Overcharging protection.
What you get:

K1:

1x rechargeable battery Charger

1*usb cable
Please read the following content and related pages carefully before purchasing. The buyer shall be responsible for the consequences if the problem is caused by the buyer himself.
We only provide pre-sale/after-sale services to users who purchase/place orders for this site. Please contact the relevant platform or customer service staff for the other customers.
Address Information
Please DON'T fill in any P.O. Box address as a shipping address because of related delivery rules. Any consequences arising therefrom shall be borne by the purchaser.
Please fill in your home or workplace address when placing an order. The information will only be used for parcel distribution and other related purposes as our privacy policy said.
Order Processing Time
It is the time elapsed between when the customer places the order and when the seller hands the order over to the delivery service.
Generally, orders are shipped within 2-3working days of order confirmation/payment. Orders made on the weekends might experience delays.
Our warehouse only operates on Monday – Friday during standard business hours, except on holidays. In these instances, we take steps to ensure shipment delays will be kept to a minimum.
Shipping Policy
If you need to amend your delivery address because there is a missing house number or postcode, this will be free of charge.
If we can't change the address for you, we'll let the courier know so they can make the change before delivering your order. A $5 fee will apply after a successful amendment.
If the order has been delivered to the original address successfully, a $15 amendment fee will apply.
There is a 1% chance that the products are damaged during shipping. If this happens, please contact our customer service team immediately.
All logistics time is the time required after the parcel is sent. The warehouse will normally send the package out within 24 hours. If you place an order on Saturday and Sunday (Or Holidays), your package will be send out on Monday(Or the first work day after the holiday)
Total Delivery Time = Processing Time + Shipping Time (depending on your location)
You can read more details on the Shipping Policy
Returns Policy
If you are unhappy with your purchase, as long as you contact us within 30 days of the receipt of the item, we will process your return/exchange request. Any request after 30 days will not be honored. Please make sure to contact us by email: imren.shop@gmail.com at first. You can read more details on the
Return & Refund Policy
page.